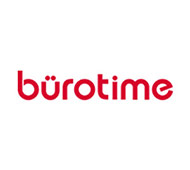 History
Pioneer of the Office Furniture sector Bürotime, the leading company of the sector with its experienced, specialized, qualified staff, modern service concept and vision which is not limited by Türkiye, is the largest office furniture producer of Türkiye.
Lead Office furniture and Office Chair brand Bürotime, which was established in Konya Organized Industrial Zone in 2000 as a result of Tosunoğulları A.Ş.'s experience from 1980 to date, is the leading brand of modular office furniture today owing to its functional designs and supreme quality.
Bürotime, which provides the most creative and innovative solutions for the individual and collective work areas, aims to design today the offices of the future, owing to its global vision, initiative spirit and dynamism.
Bürotime, which is frequently spoken about in the international arena owing to the products which are not only sold throughout Türkiye, but also exported worldwide, is proud and happy to be "The National Brand of Türkiye".
With its never-ending energy and its determination for applying the correct strategies, Bürotime, which had realized the long-term targets in a very short time such as 14 years and achieved being the leader of the sector, is aware of the fact that remaining on top is harder than reaching top and acts accordingly in all the areas of its operations knowing this.
Quality System
Our Integrated Management System Plan;
As Bürotime; we aim to act in compliance with the laws with our Integrated Management System which we had formed within the direction of our vision, mission, ethics policy and work ethics rules, to acquire the trust of our shareholders and to become an efficient, reliable brand that continuously.
Within the frame of this purpose, We Undertake;
to be customer-focused and to provide continuity in meeting the expectations of the customers,
to develop systems in order to form a safe work environment and to take the required measures,
to focus on protection of our natural environment and to respect human and environment,
to decrease wastes, to increase recycling rate, to use natural sources and energy efficiently,
to follow up the technological developments, to make designs and developments in our products / processes,
to structure in a way to enable intervention in case of emergency,
to comply with the laws, regulations and other conditions,
to be transparent in our applications for our shareholders,
and to increase the awareness of our employees and to provide the efficiency of our Integrated Management System in compliance with the requirements of ISO 9001, ISO 14001 and TS 18001 and to develop these continuously.
Vission
Office Furniture and Office Chair brand Bürotime are determined to produce office furniture which
Remove the obstacles before the work,
Increase the productivity at the workplace,
Facilitate the work life,
Are attractive.
Mission
We shall prove this determination of us by producing products that;
Have increased functional options ,
Increase the productivity of the employees,
Are leading in design,
Are sensitive to human health,
Are ergonomic,
Are environment-friendly.
Production
Bürotime, an Office Furniture and Office Chairs manufacturer, has enclosed area of 75.000 sqm, a total of 140.000 sqm production area and 400 staff. All production activities are carried out in continuously-improved plants in accordance with the advanced technology.
Panel Furniture Production Capacity: 1.250 Units/Day
Chair Production Capacity: 750 Pieces/Day
Product Delivery Schedule
Inland Max: 72 Hours
Overseas (Export) Max: 2 Hours