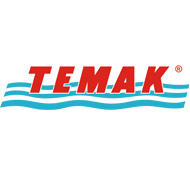 Temak
TEMAK SA is a Greek company which provides its customers with expert solutions in the field of water treatment and fluid control equipment.
We study the water problem in hand and input almost 40 years of expertise, designing the perfect solution for our customers. We then move to the next step of manufacturing in our factory, installing and providing after-sales support, when needed.
TEMAK SA is certified according to the quality control certificate EN ISO 9001:2008 and 14001:2004 for the design, development, production, storage, installation, servicing and sales of water treatment systems, chemical products and industrial equipment.
We provide solutions to Industries, Hotels, Municipalities, Public Organizations, Construction Companies, Hospitals, Greenhouses, Agriculture and the Marine Industry.
TEMAK SA expertise is not limited to the Greek market and has branched out to provide professional solutions and experience to a network of exclusive distributors. Beside the existing network we are looking for more distributors, in order to further extend our business worldwide.
Visit our website http://www.temak.gr/site/ to find full details of the company and Products.