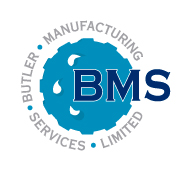 BMS
Butler Manufacturing Services Ltd. (BMS) was established in 1986 and celebrates 29 years in business in 2015. BMS is a specialist designer and manufacturer of products for the waste water & surface water treatment markets. BMS aims to provide prefabricated products of superior design, quality and excellent value. It places particular emphasis on producing package products that are delivered 'ready to go' using only parts and techniques of world renowned quality.
To achieve this, BMS employs an 'ISO 9001:2008' Quality Management System validated by the NSAI and has adopted 'World Class Manufacturing' (WCM) processes since 2002. BMS continually innovates with a constant improvement approach to all products through its full time R&D department. This creates a continuous pipeline of new products that led to the launch of three new products in the last three years. BMS has a long term track record in the waste water and surface water treatment markets and now has products in 38 countries worldwide. BMS is Ireland's leading manufacturer of mid range package sewage treatment plants and largest producer of surface water treatment products. The company is now in the unique position to be able to offer a 'one stop shop' for all surface water and attenuation requirements.
BMS, established in 1986, celebrates 29 years in business in 2015.
Accreditation to ISO 9002 awarded in 1995, ISO 9001:2008 awarded in 2009.
BMS has implemented a World Class Manufacturing (WCM) programme since 2002.
Employee Convertible Share Scheme implemented in 2007.
Sales office established in Poland for Central and Eastern Europe, January 2008.
BMS products now in 38 countries world-wide.
Three R&D programmes lead to new product launches in 2009.
Stormbreaker launched in 2010 and Agrément Certification completed.
Stormbreaker wins 'Visitors Environment Innovation Award' at Resource Ireland 2010.
BMS launch The Ecostorm Defender in 2011; a vortex separator system to offer a complete surface water 'one stop shop'.
OHSAS 18001 Health & Safety System in place & Accredited by the NSAI in 2012.
Exports exceed 45% of turnover in 2012.
BMS launch new range of Chlorine Contact tanks for Potable Water disinfection in 2013.
BMS launch Blivet UV, which produces disinfected effluent suitable for non-potable reuse in 2014.
BMS new package Denitrification Sandfilter in final testing for launch in 2015.
Visit our website http://www.butlerms.com/ to find full details of the company and Products.