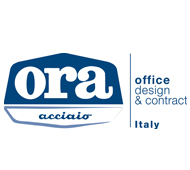 ORA ACCIAIO, leading company in the manufacture of top executive office furniture, was established in 1936. Operate in the office furniture market with exclusive solutions, extraordinary quality and an impeccable customer service – the outcome of successful team work.The Company has obtained from IQ NET, CISQ and ICILA certifications of its quality in accordance to ISO 9001 and Vision 2000 as well as to the UNI EN ISO 14001:2004 – Environmental management system.
ORA ACCIAIO is one of the most important and qualified companies in the production of high-end executive office furniture and mobile partitions, and in the design of offices for professionals.
The main production plant is in Pomezia, a short drive from Rome and covers some 25.000 square metres, of which 15.000 are for the actual hi-tech, highly computerised production line, which is continually upgraded and renewed.
An area is set aside for the production of wall partitions and special custom made furniture. The rest of the site is devoted to office buildings and a showroom.
The company also has an efficient sales department, with another showroom at its Head Office located in the centre of Rome. The Head Office also accommodates the company's R&D department guided by architects and expert technicians.
Office: The traditional core business of ORA ACCIAIO, is centred in the top management office furniture: elegant in design, rigorously "Made in Italy", manufactured in precious woods: Honduras mahogany, Makassar ebony, Wengé, natural veneered walnut, zebrano, etc. The entire range of office products is available exclusively at our authorized agents' showrooms in Italy and countries around the world.
Design: Essential lines created by world-known architects:
Luca Scacchetti, the designer of the new BERNINI and iconic RHO series, ORA ACCIAIO's pride.Lucci/Orlandini, ingenious creators of the best-seller Flute series, and of the new-born but already famous Dhow.Nicolas Chachamis, innovative Italo-Greek designer, creator of the versatile system Hydra.
For more details please visit www.oraacciaio.com