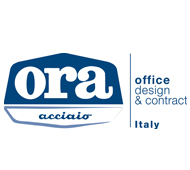 FLUTE
Finishing Mahogany Honduras, Light Walnut and Ebony. The new and high directional Flute collection, designed by architects Lucci & Orlandini, interprets the high life style of the fifties. The design is nostalgic but the concepts of modularity, interchange ability, electrification and fittings are extremely technological. The finishes are in Honduras mahogany, light walnut and ebony.
The workplace in light walnut, with its pure lines, grants both flexibility and maximum modularity.
Ebony, leather, glass and chrome:
precious materials wisely matched that give this collection a top class image of a refined elegance.
The curved outlines sequence, at times hollowed or convex, is also offered in the complementary furniture.
The use of precious woods such as ebony, mahogany and walnut, water veneered to an opaque finish, result in natural elegance.
The materials used for the structure and accessories mix with the woods in a balanced and harmonious way: the stitched leather, the brush polished die cast elements and the transparent tempered glass, enhance the beauty and elegance of the wood elements.