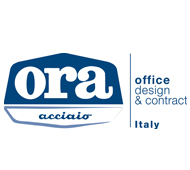 HYDRA
The project has been developed by Architect Nikolas Chachamis with the collaboration of Technical R&D Department of Ora Acciaio. Innovative technological contents allow extreme versatile performances in the system. The aim of suiting the working environment with elegance and stylistic subtleties is achieved with the employment of precious wooden finishing and polished/glazed aluminium.
MODEL WITH PRECIOUS WOOD VENEERED STRUCTURE.
Wengé, grey oak and walnut wood, richly finished, enhance the minimalist details of the range.
All desks and tables of Hydra range provide also the trendy model with glass tops.The warmth of woods harmonically joints the esthetical and functional characteristics of six different glass colours.
The desktops and tops of the low cupboards, lying on load bearing units and pedestals,optimise the working environment and allow a direct fruition of personal filing and spaces.
BOOKCASES ON FOOTBOARD
Various bookcases complete the range in line with its image. Placed on raised footboards,they grant a synchronous of the shapes together with an excellent functionality.Various typologies of service tops/tables adapt to differentiated areas: working, computer and interaction areas.
MODESTY PANEL
In the four legs model it is possible to grant more privacy providing the desks with wooden modesty panels.
MODEL WITH SILVER METALLISED ALUMINIUM STRUCTURE.
The range in this model is basic. The result of the contrast between the polished/brushed metal pieces and the precious woods together with the glass, represents a classical stylistic purity.
FULL SIDE DESKTOPS AND CONSOLE.
The range, in this version has wengé, grey oak or walnut wooden finished full sides.The modesty panel, in this case, is structural.
CONFERENCE TABLES.
The tables are available in different finishing: wooden and aluminium structure with wooden or glass tops.It is also possible to equip the tables with a cable management support.
BOOKCASES.
If required, traditional fi ling system, matching the design and the finishing, are also available in this range.