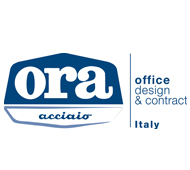 RHO+
The + Plus version of the Rho collection, signed by Architect Luca Scacchetti, enhances the design in a masterly fashion by utilizing precious materials such as ebony, leather and titanium color aluminum components. This results in a mix of unusual balance and elegance in complete harmony with shapes which are both essential and functional.
The excellence of this collection is evident when examining the care for details, never redundant and with a constant view to elegance and sobriety. Thanks to a wide range of complements, it allows the composition of highly efficient and personalized offices.
The ebony components are finished with open pore water based varnishes granting strong opaqueness; these characteristics confer a natural and reassuring appearance. The leather in its two colour variants, black and cognac, contribute to visual and tactile comfort.
The doors and panels of all storage units can be in ebony finishing, in leather (black, cognac) or in black stained glass, and can be mixed to provide an extremely attractive chromatic effect.
Thanks to the wide selection offered, the large meeting tables contribute to furnish common and private offices for different activities: from official and non official meetings of working groups to the solemn and institutional moments of the company life. All the tables are equipped with a cable passage, the cables exiting through covers in black stained glass.