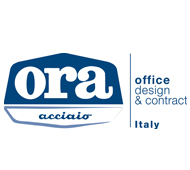 DHOW+
In ancient times, the word Dhow indicated a vessel with triangular sails used for trading between East and West. The word therefore recalls classical images, the same images that have inspired the concept for this system.
The focal point of this project is in the capital which joins the leg to the surface, a cast aluminum element whose function is both structural and aesthetic, a perfect synthesis of material plasticity and formal levity.The arched capital is designed so as not to create interruption between the vertical line of the leg and the horizontal line of the lower plane.
The result is a pure and clean silhouette, sinuous in its curves and almost cutting in its corners, graceful in proportions and at the same time monolithic in its continuity. The available wood finishing, Walnut and Ebony, well reflect the prestige of this series.
The counterpart to the classical concept inspiring the capital, is found in the asymmetric design of the walnut and ebony surfaces. The design alternates curved lines and drastic cuts, resulting in its characteristic "sabre" shaped desk.
The tear shaped extension is a perfectly round crystal surface which is fixed under the main plane and supported by an arch in polished aluminium, creating a modern and almost deconstructed architecture. This particular combination of the various elements and materials contributes to emphasize the dynamics of the possible compositions, allowing best use of available space both for hosts and guests
Dhow is a system which combines in an admirable way the classical quality of shapes and materials used (polished aluminium, precious woods such as ebony and walnut,tempered glass, natural leather for accessories), with a modern conception in the design of accessories and compositions.
A glass top version has been added to the DHOW series enhancing all its elegant characteristics. It is available in various versions:
transparent, satin finish or back-varnished black. A series of black lacquered matching cabinets is also available.
The elegance of its structure is further enhanced by the transparency and pureness of the glass.
Dhow is an extremely elegant series, including its storage units: the consoles-étagères and the column cabinets stand on the characteristic aluminium base, their surfaces are finished in leather or wood, and include a lighting system which exalts their beauty.
The series may be completed by the infinite solutions possible with the cabinets available in the series "Librerie Universali".