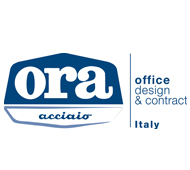 BERNINI
This new line of office furniture is inspired and named after Gian Lorenzo Bernini, famous sculptor, architect and painter of the XVIIth century, a symbol of baroque Italian art, the man who "when portraying did not wish his client to stand still, but that he should move and talk…".
His art has inspired the levity, elegance and the idea behind the design of this series: a skeleton having simple geometric lines and rounded surfaces, with an eye to its surroundings: a continuous game of empty and solid spaces.
When designing this project, and before the changes dictated by reason and by production and marketing needs, we imagined a series of joints and grafts between the various surfaces by means of a multi-lobed cross similar to the "Piloni", pillars and the typical architectural reliefs in Bernini's designs. The continuous movement caused by a succession of convex and concave spaces has somehow inspired the design of a leg/hinge/joint which although subsequently simplified, has become the key element of this collection.
Our wish to name it after Bernini, justified by the initial inspiration and which can today only be detected by following in succession the several formal changes made, wants to be also a tribute to Rome and to Italy. Bernini was born in Naples, but worked in many parts of Italy. He was insistently invited by Louis XVI to travel to Paris for the building of the Louvre, but he was above all an artist of Rome to which, thanks to St Peter's colonnade, his name is linked.
Tops are embellished with Italian leather inserts in either brown cognac or black.Moreover the aluminum profile bases can be replaced by wooden full sides.
The BERNINI series responds to the need of meeting the requirement of combining the geometrical shapes of the polished aluminium structure with the smoother line of the table tops, whether in precious Makassar wood veneer or Canaletto walnut with their refined unusual goose-beak edges.